The maintenance of the house cleaning is essential to claim a healthy life. More and more people care about taking care of the environment as much as they care about their homes. Through this article, we will outline the possibilities offered for the maintenance of a roof and a facade in an ecological way.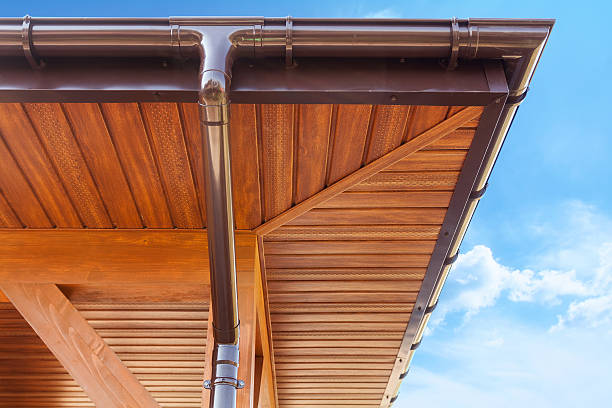 How to clean your facade the ecological way?
Before starting the cleaning: make sure you have gloves (some products used can irritate) and a suit, protect the house (shutters and windows) as well as the surrounding plants (using tarpaulins or cardboard).
For coatings: soda crystals are recommended. Dilute approximately 100 grams of crystals in 1 liter of hot water, brush the facade evenly with a push broom, then rinse. Ecological and non-toxic, soda crystals are also economical.
Caustic potash: it respects the sealing of the facade, which is ideal for brickwork. Mix 750 ml of potassium hydroxide with hot water, brush the facade with a brush or broom, and rinse.
White vinegar: a true ally of purity, it ensures shine and cleanliness at unbeatable prices. Just dilute hot water and white vinegar in equal proportions (watch out for vapors!), and in the case of more stubborn dirt, add a handful of coarse salt. Spray, leave on, and rinse the facade.
Demoss and treat your roof naturally
True guarantor of your insulation and protecting the home, the roof must be regularly maintained carefully to be rid of its moss. Here is how to clean it ecologically and which products to use:
Saltwater: to use this powerful natural anti-foam, you must mix 200 grams of coarse salt per liter. Spray, let dry, and rinse the roof.
Baking soda destroys and delays the appearance of moss: mix 30 grams of baking soda with 1 liter of lukewarm water, spray, and let dry, then brush.
Citric acid is the most effective natural antifungal there is a mix of 4 liters of lukewarm water with 300 grams of citric acid, 100 grams of bicarbonate, 50 grams of black soap, and a few drops of essential oils of tea tree or basil. Spray, let stand 2-3 days in dry weather, rinse, and sweep.
After each cleaning, a water-repellent treatment is necessary to protect the roof from humidity. Marseille soap is the natural reference water repellent.
The ecological cleaning of a terrace
Places of convivial relaxation par excellence, private outdoor islands. Our terraces also deserve professional cleaning maintenance that respects the environment. It is adapted to the materials that make them up.
Four wooden decks: use soapy water, wash and rinse. Black soap is just as suitable as Marseille soap, the dosages will depend on the recommendations of the manufacturers. It is advisable to carry out two seasonal cleanings of its terrace, before and after winter.
For tiled terraces: use 100 grams of baking soda, and a few drops of black soap diluted in 1 liter of lukewarm water. Scrub the floor with a broom, and rinse with vinegar water (prevents the appearance of new molds, 1 glass of vinegar per liter of water). It is also possible to make a baking soda paste for a very dirty floor: then use 500 grams of baking soda for 500ml of water. Rub vigorously and rinse thoroughly.
Just as for cleaning the facade, soda crystals can be used for the terrace. In case of encrusted dirt. It is the recommended technique for concrete terraces which must always be rinsed well after washing.
The methods of outdoor ecological cleaning professionals
Many professionals offer eco-responsible services by adapting their work techniques. Here are a few.
Hydro gumming: a technique used for facades where a mixture of water, air, and an abrasive defined according to the material to be treated is sprayed at low pressure to gently strip it. This technique does not emit dust or toxic chemicals.
Defoaming and steam cleaning: another ecological alternative and this process uses only water vapor under low pressure ensuring a use excluding harmful products and additives that can cause damage and injury if miss handled by untrained workers.
The SCS Group Cleaning Solution qualification helps consumers find the best cleaning service in Sydney, the recognized guarantor of the environment, in all building trades. Ask for a free quote with no obligation to find the most suitable cleaning solution that your business needs.