Tips for a clean and tidy garage
Difficult to keep your garage always clean and tidy? Follow our advice!
The garage is the place where we park the car, the motorcycle, the bicycles, but also a place where we store everything that we do not use daily: toy boxes, sports equipment, old magazines…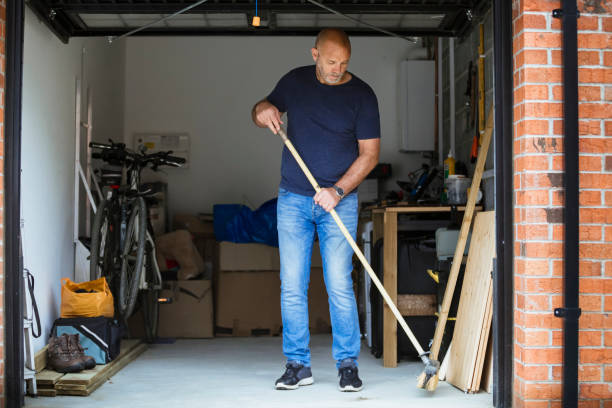 In addition, if we are a bit of a handyman, it is possible that we have placed a workspace in the garage and that we store tools and utensils there. Keeping the garage clean and tidy is hard with so many miscellaneous items. Here are our tips!
Empty the garage from time to time
We can imagine that it can give you cold sweats, but it is necessary to sort it out, get rid of what we no longer use at all, and put away what we use. The best solution is to get everything out of the garage: once outside, sort out what you no longer use, see what you can give away or sell and what you want to keep. Try to determine if you actually use these objects, if they are worth keeping if they have sentimental or economic value. Because if they have landed in the garage, it is likely that they are objects that you do not use that much! Perhaps you had even forgotten their existence, and in this case, why not give them away or sell them? They could make the happiness by
Cleaning the walls
Just like the interior of a house, the walls of the garage must clean themselves from time to time to eliminate not only the remains of dust and dirt but also the creatures that have made their home there. If they can be cleaned with a cloth, use a cleaner and wipe the surfaces with a cloth. You should clean them and repaint them periodically to keep them sanitized. Don't forget to include the ceiling in this professional cleaning.
Wash the floor regularly
It is important to clean the floor fairly frequently. If you park your car or motorbike in the garage, it will also be necessary to remove the remains of oil and dust that they may have left on the ground. If you do not park a vehicle, however, you may find leaves, sand, and dust that will need to be removed frequently.
Also check that you have no visitors hiding between the furniture (rats, mice, nutria, dormice, or even ants or birds). If this is the case, contact a specialized company.
After sweeping, use water and a disinfectant and professional cleaning product used by a professional cleaning company that will allow you to sanitize the garage and ensure its hygiene. You can use a device that sends a jet of hot water under pressure or use a mop and bucket. In case of remains of oil and grease from vehicles, use a specific product.
In order to have everything in its place, there must be a place for it
Take advantage of having everything out to reorganize the space, group the objects, and keep the garage tidy, while freeing the way. In DIY stores, you can find cupboards, shelves, or other storage options to organize crates and larger objects. For tools, we advise you to invest in specific storage for tools, which will allow you to have them at hand at all times while occupying as little space as possible.
And remember every time you go to put something in the garage, rather than dumping it carelessly in the middle, store it with similar items. This is how you can keep a tidy garage for longer, and thus clean it more easily.