Knowing how to clean an office chair properly is a must. Whether at home or in an office, chairs become widely used furniture. Likewise, because of its characteristics and the type of use we give, it is normal for inconveniences to arise that lead to stains and dirt.
In this post, we will show you some recommendations on cleaning office chairs, and in this way, you will do quality maintenance that will allow you to increase the useful life of your furniture for much longer.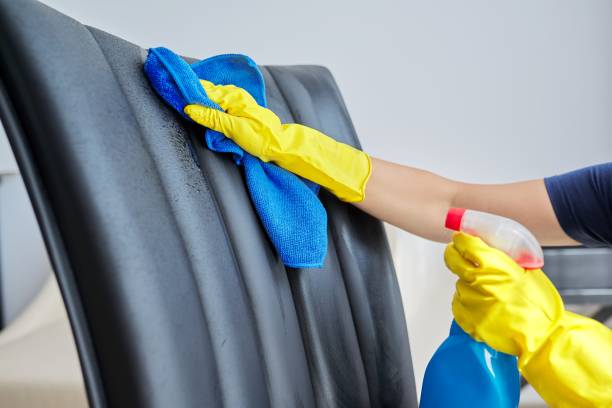 Knowing how to wash a desk chair will allow you to prevent damage to the upholstery of this type of furniture. We recommend requesting cleaning of this style so that trained professionals can generate timely maintenance. There is a delicate nature to this material. Therefore, any improper procedure could lead to the loss of furniture.
Contents
1 What should we take into account when cleaning an office chair?

1.1 ➡ 1. State of the fabric
1.2 ➡ 2. Type of fabric
1.3 ➡ 3. Maintenance instructions

2 Tricks to clean a stained office chair
3 Beware of old stains
4 How do you clean an office chair's wheels?
5 Recommendations to clean a very dirty office chair
What should we take into account when cleaning an office chair?
Without a doubt, it is not always easy to clean an office chair, there is always the fear of perceiving damage to the upholstery. That is why the first step to do this type of maintenance is to obtain information about it. Therefore, we will offer you some tips that are worth knowing before cleaning an office chair.
➡ 1. State of the fabric
The first thing you should do is assess the state of the fabric, to analyze several important aspects. At first, you should know in which direction the fabric is going, since that gives us an idea of ​​where it should be cleaned to remove dirt. Meanwhile, you should also assess if the fabric has stains or damage anywhere.
Well, this will allow us to carry out a professional, organized, and above all safe cleaning. Remember that if you see any stains on the fabric, try to determine what caused it. If it is organic matter, it may be appropriate to use natural cleaning products. While, if the stains are due to inorganic elements such as rust, it is best to use cleaning products.
➡ 2. Type of fabric
On the other hand, you should know what type of fabric your chair is made of, since this allows the type of cleaning to be carried out to be the most appropriate for the material. Keep in mind that there are some fabric materials that are stronger than others. However, those fabrics that are very delicate must be treated with great care. And, this is not always something easy to apply by people without experience. So it is an important point to know how to clean office chairs properly.
➡ 3. Maintenance instructions
Keep in mind that on the back of the office chair, there are usually some indications about its maintenance. For example, it will tell you if you can use all kinds of solutions or if, on the contrary, you can only use neutral pH products. It should be noted that in terms of how to wash an office chair, this is essential. Usually, to clean an office chair, dry foam maintenance is applied, so that the fabric dries faster and there is no negative impact on maintenance.
Tips for cleaning a stained office chair
Surely more than once it has happened to you that you have to face a stain on the office chair, no matter what we do, dirt always seems to be a great threat. But, " how to clean a stained desk chair? ¨
The first thing we should know is that it is vital to act on time and in an organized manner. So do not lose your cool, the first step is to place a slightly damp absorbent cloth on the stain. This will loosen the dirt and make it easier to clean the dirty area.
Beware of old stains
Likewise, if the stain is old and we want to know how to clean the upholstery of an office chair, we can use pure alcohol. What we must do is add a little alcohol to a microfiber cloth and place it on the stain.
It should be noted that we should not scrub or rub on the stain since that would only make the situation worse. On the contrary, what we have to do is exert pressure with the intention that the dirt comes off and is eliminated with the effect of alcohol.
Remember that there are other products that are ideal for knowing how to clean stained office chairs. Cleaning chemicals are usually designed to dissolve ink stains, grease, and rust. However, they are very efficient and remove dirt in record time.
When it comes to cleaning office chairs, how do you do it?
The application of soapy cleaning products is essential to remove dirt from the wheels of office chairs. They are surfaces that store a lot of dirt, grime, and dust. Likewise, the ideal is to do a cleaning that is linked to the disinfection of the surface. That is why there are currently many cleaning products that are excellent for achieving this type of maintenance.
Recommendations for cleaning a very dirty office chair
When it comes to cleaning a very dirty office chair, the use of wet treatments is almost essential.
The first step should be to vacuum the surface to remove dust and grime.
Likewise, we must create a cleaning solution with neutral detergent and warm water. Specifically, we can use half a liter of warm water with ¼ neutral detergent.
We then use a microfiber cloth dampened with the solution to clean the upholstery.
Subsequently, we must let the chair dry naturally for a few minutes.
After this time, the ideal is to pass an absorbent handkerchief over the surface.
Keep in mind that hiring a cleaning company may be the best option when looking for how to clean an office chair. And that, these types of agencies have professional cleaning products that clean the surface without damaging it.
Likewise, it is very appropriate because they use a type of modern cleaning machinery that eliminates dust, and stains and that completely favors this type of maintenance. Do not hesitate to ask us about our professional office cleaning offers, we have a lot to contribute to your spaces. Learn about our services from our website, contact us !