The windows of the house are a very important element, they provide light and contribute to the flow of air. Ideally, cleaning should be done twice a year, but many people skip this task until the windows are very dirty.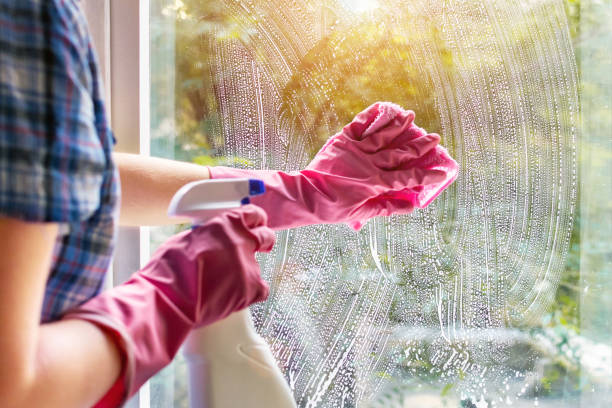 In this guide, we will tell you step by step how to clean your crystals like a professional using homemade products that you can find in the corner supermarket.
For this task, you can use the following materials
Have on hand the materials you will use to clean your windows:
Water
Detergent
old newspapers
rubber squeegee
window cleaning fluid
If you don't have any window cleaning fluid, you can make a homemade one by combining 1 part vinegar with 4 parts water in a bucket and mixing until fully mixed. In a spray bottle, pour the mixture.
Steps to follow to clean windows
Step One: Frames
The first step is to clean the window frame, if you do it at the end the glass will get dirty again. Depending on the type of frame we will use different materials:
In aluminum frames, you only need hot water and detergent
On wooden frames, a soft damp cloth, cold water, and skimmed milk can be used.
Second step: surface cleaning
Rinse the windows to remove all the superficial dust and leave only the difficult stains, for it is important to have two buckets, the first will put the sponge and soak it with a mixture of detergent and water, and the second will rinse the sponge.
It is important that you change the water frequently (up to 1 bucket per window) to prevent the sponge from getting dirty. It is important that you do not use the sponge to dry the window because you could scratch it, use the newspaper.
Third step: Deep cleaning
If your windows are very dirty, use a porous sponge and two buckets. In the same way, that you have done before. Get a microfiber cloth so you can dry scrub and remove stubborn stains.
If you're using the sprayer, bring it closer to the stains that won't come off and spray. This way the pressure could help remove the remaining stains.
Practical tips for cleaning windows
If you have problems cleaning your windows, you can use some tricks:
For stains that are not removed or problems with the glass, use alcohol, put it on a microfiber cloth and rub it hard, then clean it with newspaper and you will see surprising results.
To clean the exterior of windows that are difficult to access, you can use a hose with a lot of pressure, in this way you will remove all the stains without getting close.
Clean the crystals on one side from right to left, and on the other side from top to bottom, this way if you see a stain you will know if it is inside or outside.
Do not use chlorine or any other powerful detergent, these can cause stains on your window.
If you have another trick to professionally clean windows effectively in a matter of minutes. do not hesitate to contact us and we will gladly update the article.