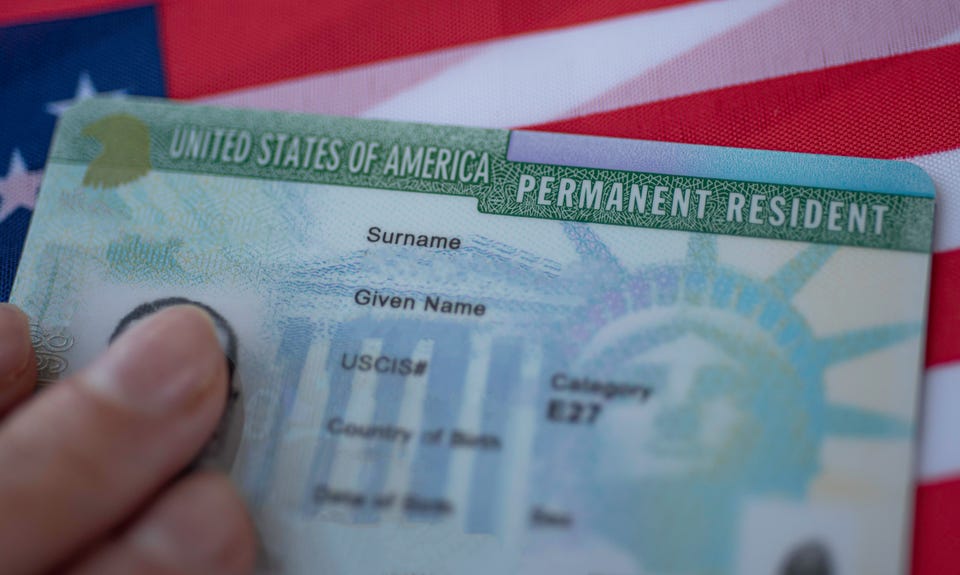 The immigrant wave is still booming throughout the United States., and correspondingly immigrants are landing in the U.S. to seek better opportunities and to live the "American Dream.".
However, what matters the most is the nature of your visit to the U.S. Further, the immigration laws of America are friendly and favorable for immigrants. Still, those following illegal ways for entry may face dire consequences.
In order to pursue a legit pathway for permanent residence in the United States, the applicants may follow the Green Card procedures to make their way into the U.S legally.
Immigrants who wish to obtain permanent residence in the U.S.A must get a Green Card. Furthermore, a Green Card ensures them a status of Lawful Permanent Residents (LPR) with a provision to live and work freely.
Green Card is not bounded to a single category, and there are various immigrant visas through which permanent residence can be ensured.
In this blog, we will highlight particular legal ways through which non-U.S. citizens can become Green Card holders and develop a prosperous lifestyle in the country.
1. Green Card Through Family
The family members of U.S. citizens can be invited to the U.S. to become Green Card Holders (Lawful Permanent Residents). However, there are two categories under which the petitions can be filed.
Petition for Immediate Relatives
This petition is for close family members, including spouses, common-law partners, dependent children (under 21 years), and parents. The immediate relative's category has an expedited process, and there is no fixed limit for the petition filed under this category.
Petition for Family Preference Categories
Besides immediate relatives, U.S. citizens can invite other family members to become U.S. citizens. The categories include:
1. First Preference (F1):
The U.S. citizens of unmarried children (21 years of age or above) can file a petition for a Green Card.
2. Second Preference (F2A):
The Spouses and children (unmarried and 21 years of age or above) of lawful permanent residents are encouraged to file a petition.
3. Second Preference (F2B):
Unmarried sons and daughters (21 years of age or above) of lawful permanent residents can apply.
4. Third Preference (F3):
U.S. citizens' married children (sons and daughters) can apply for this petition.
5. Fourth Preference (F4):
Brothers and Siblings of U.S. citizens (if the U.S. citizen is of 21 years or above) are also allowed to file the petition.
These groups can only have a certain number of immigrants each fiscal year. Processing is slower, typically taking years or even decades.
2. Green Card Through Employment
Usually, foreign immigrants are allowed to work temporarily in the country but, if they possess exceptional abilities in advanced degrees or professions, then there exists a route for a Green Card.
Below, there are categories of visas that can be granted to immigrants, and they can have Green Card.
1. EB-1 Visa
This category is specifically for the "Priority Workers." The applicants under this category are considered exceptional workers, or immigrants are given preference over their abilities or talents.
The priority workers are those applicants having:
Extraordinary ability in Science, Arts, Education, Business, or Athletics
Experienced in teaching; Are Professors and Researchers
Certain Multinational managers and executives
However, demonstration of experience in respective domains is also required for this category.
2. EB-2 Visa
Under this tier fall those applicants with experience in professions with advanced degrees or exceptional abilities. Furthermore, applicants having special skills can also apply for national interest waivers.
3. EB-3 Visa
This category is for skilled workers, professionals, or experienced workers in other technical and managerial occupations.
4. EB-5 Visa
The USCIS administers this program directly. Under the EB-5, the investors along with their spouse or dependent children can become Green Card holders of the U.S. The Investors are required to fulfill the following conditions:
A necessary investment to be made in a commercial enterprise in the United States;
A plan to create or preserve employment opportunities (full-time jobs) for at least ten qualified U.S. workers.
By complying with the above conditions, non-U.S. citizens can become Green Card holders through the Immigrant Investor Program.
3. Green Card as a Special Immigrant
The U.S. also provides a Green Card to the "Special Immigrants" constituted under the employment-based and fourth preference (EB-4) visa.
The "Special Immigrants" are considered the following:
Religious Workers
Special Workers
Afghanistan or Iraq Nationals (Interpreters or Translators)
International Broadcasters
An employee of an international organization or family member or NATO-6 employee or family member
To petition for an employment-based fourth preference immigrant, the employer must file a Form I-360, Petition for Amerasian, Widow(er), or Special Immigrant.
4. Green Card Through Lottery
The Diversity Immigrant Visa Program issues Green Card to a specified number of immigrants annually. Similarly, the limit went to the issuance of 55,000 immigrants yearly.
Participants from qualified nations who are selected at random are given Green Cards. The diversity immigrant visa lottery is conducted once a year, often in October, and the winners are selected randomly through an electronic draw.
5. Green Card Through Refugee or Asylee Status
The Asylum Seekers and Refugees are also eligible to apply for the Green Card. If they complete the eligibility criteria, then they can obtain Green Card under this status.
Asylum Seekers: The applicants who have been granted an asylee status at least one year ago can petition for a Green Card through Asylee Status.
Refugees: The applicants who have been previously granted Refugee status for at least one year ago, can file a petition for Green Card Through Refugee Status.
When a Green Card is issued to the applicants under this category, they may have to go for the adjustment of status in the U.S.
6. Green Card Through Registry
Individuals who have lived continuously in the United States since before January 1, 1972, might be qualified to apply for a Green Card. Getting a residence permit through this process is known as "Registry."
Other conditions include:
The applicants entered the United States before Jan 1, 1972.
The applicants have resided in the United States continuously since entering.
The applicants must possess a good moral character.
The applicants are not ineligible for naturalization (citizenship).
To apply for a Green Card under the registry provisions, you need to file Form I-485, Application to Register Permanent Residence or Adjust Status.
7. Green Card Through Other Categories
There are also other categories through which the applicants can become Green Card holders. Some of them include:
Liberian Refugee Immigration Fairness (LRIF)
Diversity Immigrant Visa Program
Cuban Adjustment Act
An abused (victim of battery or extreme cruelty) spouse or child under the Cuban Adjustment Act
Dependent status under the HRIFA
Lautenberg parolee
Indochinese Parole Adjustment Act of 2000
An abused (victim of battery or extreme cruelty) spouse or child under HRIF
American Indian born in Canada
Born in the United States to a foreign diplomat
Section 13 (diplomat)
The evidence to demonstrate such status may be required at the time of application.
Our Advice
Interested individuals wishing to immigrate to the U.S. but are not confirmed in which category they can become Green Card holders, or the ones not knowing the legal procedures can contact us to follow their legal immigration pathway.
With our legal assistance and years of extensive experience in dealing with Green Card applications, petition filing, and legal advising, we have assisted people throughout the globe in pursuing Immigration to the U.S.A. For any legal advice or assistance, you can contact Stillman Legal P.C.